By Mar Camacho Martí, General Director of Innovation, Research and Digital Culture, Ana Albalat Martínez, Deputy Director of Innovation, Research and Digital Culture, and Roser Cussó Calabuig, Head of the Digital Culture Area at the Department of Education of the Catalan government and members of DigiGen's Spanish National Stakeholder Committee.
The Digital Education Plan of Catalonia 2020-2023, launched by the Ministry of Education of Catalonia in the 12th legislature term (01/2018 – 12/2020), aims to contribute to the development of digital skills needed by all citizens to tackle the challenges of modern society coming from the extension of digital technology. Its goal is to place Catalonia as a leading country on the educational use of digital technology to achieve social success. Also for improving digital skills in all pupils, all teachers and all educational institutions according to the educational transformation framework.
The Digital Education Plan is addressed to 1,597801 pupils (and their families), 115,565 teachers and 3,800 schools. It is structured around 3 axes, 3 main goals, 13 specific objectives, 25 action lines and 58 key actions.

Some of the first actions are: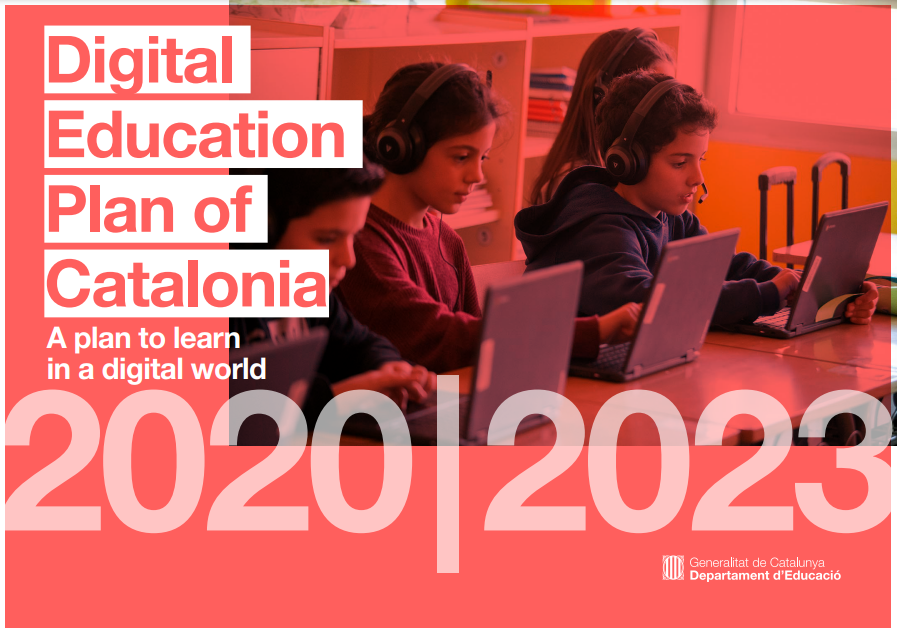 Tackling the digital divide
To achieve this goal it is necessary to ensure the connectivity of schools and provide the necessary equipment to pupils and teachers.
Within the framework of the Digital Education Plan of Catalonia, the Digital Transformation Acceleration Project deploys interventions related to connectivity and pupil and teacher's equipment since November 2020.
On June 29th, 2020, € 103 million was approved and announced at a press conference by the Minister and in March 2021 the government approved € 52 million of the extraordinary fund to implement the Digital Education Plan.
In this sense, the following actions have been carried out:
224,772 computers for students in 3rd and 4th year of Secondary Education, Baccalaureate and Vocational Education and Training as well as for students with needs from 5th grade of Primary School to 2nd year of Secondary Education.
44,650 wireless routers (Mifis) for 5th graders at Higher Education who do not have connectivity at home, covering 100% of needs.
71,121 computers for teachers in public schools.
1,271 transformations of the LAN-WiFi Network of schools.
Restructuring and expanding the in-service training offer
Teaching competence is one of the most relevant factors in the quality of educational action. In their daily practice, teachers must develop digital teaching competence in a holistic way.
To address this need, the Department of Education carries out actions to ensure the digital competence of both active teachers and new teachers.
Deployment of guidelines for the assessment of students' digital competence
One of the Plan's objectives is to ensure that pupils in Catalonia are digitally competent at the end of compulsory education. In order to work towards this goal, it is necessary to make appropriate digital resources and materials that allow both classroom learning and autonomous learning available to schools, teachers and students, as well as methodological guidelines aimed to achieve pupil's digital competence.
Early education guidelines will be released shortly, too.
Deployment of guidelines to define Digital School's Strategy.
The Digital School's Strategy (DSS) defines and specifies the action lines that make it possible for teachers, students and schools to achieve digital competence.
To achieve this, the DSS includes all school areas: organizational, methodological, curricular and communicative, which must necessarily be involved and, where appropriate, transformed, from a perspective of innovation and continuous improvement.
The objectives of the DSS can be grouped into five areas, having as goal the maximum achievement of the digital competence of students, teachers and schools:
Achieving digital competence
Strategic planning and organization
Teaching methodologies and innovation
Digital and gender inclusion
Security and data protection
Digital Families Project
From the Digital Education Plan of Catalonia 2020-23 and the Plan to foster educational opportunities, promoted by the Ministry of Education, the Digital Families initiative was launched to facilitate the acquisition of digital competence by families.
The presence of digital technologies in our lives has generated a new social and educational reality, which offers teachers, pupils and families new possibilities to interact and learn. Digital competence, understood as a key competence of the 21st century, is essential and must be ensured by all the agents that compose the educational and community ecosystem. Families, as an important part of the educational community, must achieve the resources, skills and competencies needed to ensure optimal support in the learning process of children and young people.
The Digital Education Plan of Catalonia is based on the guidelines, instructions and evidence of international organizations. It is necessary to be aware of the different decision-making strategies when it comes to being able to make contributions to the Plan and its improvement. For this reason, collaborating with European projects like DigiGen helps to establish synergies, gather evidence and rethink our way of thinking. The Digital Education Plan of Catalonia is advancing in the hands of the team of the educational research service of the Department of Education, with the aim of internationalizing our plan and collecting evidence from other proposals, programs, projects and strategic plans.